I had to save this woot forever because it made me laugh.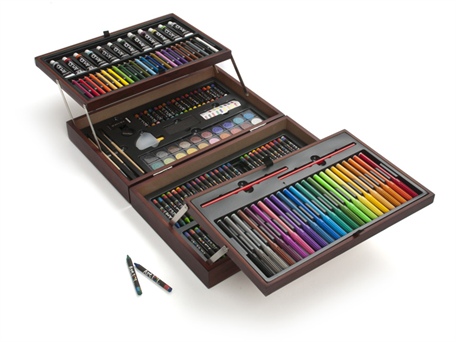 Art 101 Deluxe Wood 170-Piece Art Set
$24.99 + $5 shipping
CONDITION: New
PRODUCT: 1 Art 101 53170 Deluxe Wood 170-Piece Art Set
LITTLE DARLINGS
"Oh, take one crayon from my Art 101 Deluxe Wood 170-Piece Art Set? Well… as long as you promise to bring it right back tomorrow…
DAY ONE
Dearest Brandy,
It was so lovely to have you at my party last weekend! Thank so so much for the Art 101 Deluxe Wood 170-Piece Art Set. I was so happy to loan you one of the 60 included Crayons so you could take it home and color your pony drawing. However, I now have need of it for my own, far more advanced drawing of a princess. Could you please return it to me as soon as you are able? Thanks ever so.
Love,
Lisa
DAY THREE
Sweet Brandy,
It was a shame that you didn't hear me when I called your name today in the hall. Still, you were walking quickly in the other direction. Maybe you had noticed how long you've had my crayon and felt ashamed? Thankfully, I am the forgiving sort, and I've been using some of the other tools in the Art 101 Deluxe Wood 170-Piece Art Set instead. I've found the 24 Colored Pencils have given me a much greater control over the shading of my princess' castle, while the 24 Fine Line Markers have helped me to draw an enchanted pond full of royal swans. So, really, your delay has been a benefit! Such is the life of an artist! Regardless, I really must insist that you return my crayon before the weekend, as I cannot afford to leave my princess drawing unfinished. My mother, you see, wishes to put it up on the refrigerator as soon as it is complete. Shall I expect you for afterschool snacks?
Warmest,
Lisa
DAY FIVE
Dear Brandy,
I'm starting to take this personally, ha ha! Naturally, I've channeled my feelings into mastering the 12 Acrylic Paint Tubes and 18 Oil Pastels, to which the 3 Paint Brushes and Palette were a huge boon. My princess now stands on a Van Gogh like pointillistic lawn full of daisies and tulips, and everyone who's seen it says the work is well beyond my years. I, of course, give full credit to the Color Chart that assisted me, but I can't in good conscience accept the small stipend I've been offered from the Metropolitan Museum of Art. And why, Brandy? Because I cannot call this picture finished until I complete it with a final stroke of the crayon… the crayon you still, to this day, possess! Brandy, I plead with you: the crayon you now have is all that stands between me and fame. Would you, will you find it in your heart to return it to me upon receipt of this letter? Surely then you would be the most true of all my friends indeed!
Yours,
Lisa
DAY TEN
Brandy –
I write this with my last remaining Sketch Pencil as I lie on the beach. The water is lapping my hair, but I pay it no mind. Soon they will find me washed ashore on the sands of another country. France? England? Who can say where the tide of fate will lead me? All I know is that without my crayon, my Art 101 Deluxe Wood 170-Piece Art Set is worthless to me. Not the Eraser, not the Sponge, not the Water Bottle or the fine Wood Case, not even my God-given talent has meaning if I cannot finish my princess picture. By the time you read this, I will likely be gone. Please, remember the good times we had. And if one day, the clouds turn crimson at dawn… perhaps it will be my hand that paints them?
Goodbye,
Lisa
DAY ELEVEN
Lisa-
OMG here's your stupid crayon okay? Stop being creepy, I was away for vacation at my grandparents.
-Brandy
DAY TWELVE
Beloved Brandy,
Please join me this weekend for the unveiling of my latest work "Princess Of All Things In All Mediums Ever" at 2pm on Saturday. Small cucumber sandwiches will be served, and your prettiest dress is encouraged to be worn! Please RSVP so I can be sure to save you room. I think you'll be amazed at how the finished piece just positively glows with passion and energy!
Heartfelt Love,
Lisa